Wingman Realty LLC
Wingman Realty Group was founded in 2010 by Angela Shopper. After a brief stint at Reece and Nichols from 2009 - 2010, Shopper transferred to Keller Williams and began growing the Wingman team. After several years selling an average of 100+ homes per year, participating in Keller Williams' leadership committee(ALC), growing her team and recruiting over 44 agents to Keller Williams, Shopper opened her own brokerage.


The idea for the name "Wingman Realty" originated from a Fighter Pilot training class that Shopper attended while working for Southwestern Bell Mobile Systems in the 1990's. It was then that she immediately identified that people in a service business, much like a formation of fighter pilots, must be all about the client. "it isn't about the individual, its about the collaborative effort for the good of all," says Shopper.


Helping buyers and sellers is the core business but Wingman Realty stands for more than that. It is about being the Wingman for a client who is relying on you for good advice during one of the most critical purchasing decisions of their life. There are many "Shopper-ism's" you may hear her say when you work with Wingman Realty, one of which is, "You aren't buying a TV .. this is a six figure purchase, let's make sure you understand this contract!"


Shopper insists agents in her brokerage learn and know the contracts. "It is never about what's in the best interest of the agent or the other side of the transaction, it is about what is best for our clients."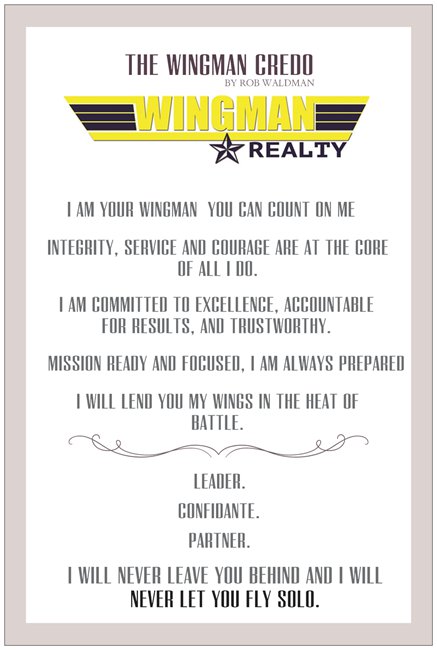 Wingman Realty now has over 25 agents licensed in Kansas and Missouri. The office is based in Lenexa, KS off the 435 and Lackman Rd Exit. Agents based out of this office range from De Soto, Olathe, Raymore, North Kansas City, Westport (KCMO, Overland Park, Basehor, Leavenworth and Kansas City (KCK). We have agents who are conveniently able to assist clients all across the Metro.
Wingman Realty is committed to giving back to the community. It is involved in several non-profits, participates in local festivals and parades, donates to local school districts, and closest to Shopper's heart is the contributions made to Veteran's Community Project for each personal referral client who closes. Wingman Realty is a donor to help build the tiny houses in the community for homeless veterans. This is a transitional housing community where homeless vets can have a home of their own while they get their paperwork in order to qualify for the services that they are entitled to as a result of their sacrifice to our country.